The Smallest 2A (SMD type) Bridge Rectifier in The World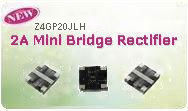 Zowie has announced the availability of industry-first 2A SMD type low Vf bridge rectifier, which was designed for today's high efficiency and space-saving applications. The new Z4GP20JLH low-loss mini bridge rectifier can be generally used for the input rectification of power adaptors, battery chargers, power supplies and compact lightings, as well as for the power supplies in consumer appliances and industrial applications.
Z4GP20JLH is innovated and developed with the combined expertise of Zowie advanced Low-Profile Superchip

package and Low Vf GPRC

chip technology. In addition, for the miniature SMD package, the advantages using Z4GP20JLH included 0.95V (max) forward voltage and 60A surge current. Moreover, with technological GPRC

chip, the maximum junction temperature of these devices can be rated up to 175C, resulting in the most reliable operation for your designs or applications.
The package of Z4GP20JLH is pin-to-pin fully compatible to the industry standard ABS package (regular 1A bridge rectifier). It is designed to replace traditional DIP bridge rectifiers for the compact design of next-generation power supplies. The designers can simply choose Z4GP20JLH to upgrade the rating of power systems and to economize on layout space and design budget.

Zowie Technology Corporation
www.zowie.com.tw