Preface

In recent years, development in LED technology has helped improved the quality (resolution and color) of screen displays
on portable devices such as mobile phones, PDAs and digital cameras.

The white light LED module in particular has became an essential component to all battery driven portable devices. The power required to start up the module, however, exceeds the electric voltage of regular Lithium-ion battery (3.0V-4.2V).
To resolve this problem, a separate driver unit is then needed to step up the voltage of Li-ion battery.

Currently there are two types of drivers on the market: parallel connection and serial connection. In the serial connection type, a Schottky diode is needed to rectify the current.

Zowie's VSCD014/VSCD024 Schottky diode with its compact size and low profile is the ideal choice for the space challenged applications such as razor-thin mobile phones or multimedia players.

Serial mode-Boost converter
The graph below shows the serial driver design. The driver provides a load current to the LED module similar to that of step-up voltage regulator. It requires an inductor as well as a rectifier to boost the voltage.

This design has two advantages: 1. Because all LEDs are serially connected, the current passing through them is therefore of the same load, thus giving each LED the same luminance. 2. The step-up voltage regulator functions within its duty cycle to provide a stable voltage to start up the LED module with better efficiency.

‧Figure of serial connection driver for White light LED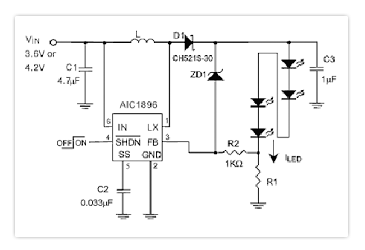 Application
VSCD014/024 is best suited for rectifying small current, especially for the buck/boost converter circuits. Its application includes LED driver, LCD driver for cell phones, handheld computers, PDA, digital cameras and other products with compact-size screen LED/LCD panels.
‧Ex
‧Figure of Li-Ion driver for 3 white light LEDs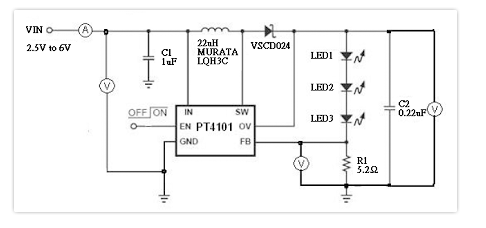 Electrical Characteristics
VSCD014/024 does not use the wire-bond method to direct its electrical connection, therefore eliminating the possible noise often associated with the wire-bond method. Because of its patented structure, VSCD014/024 also has better thermal conductance and higher load current rating.